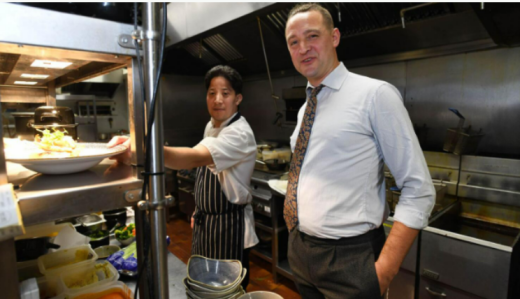 CHEF RECRUITMENT FIRM SAYS HOSPITALITY IS "CRIPPLED" DUE TO STAFF SHORTAGES. WEHAVECHEFS AIMS TO FILL THE GAPS IN KITCHENS AROUND IRELAND. 
Business Post                                                  February 28, 2022

A new Irish hospitality business has called on the government to fast-track work permit applications for non-EU chefs to help the "crippled" industry recover from the pandemic.
WE HAVE CHEFS: IRISH BROTHERS' NEW BUSINESS ADDRESSES INTERNATIONAL SHORTAGE OF KITCHENT STAFF.
Irish Post                                                         March 30, 2022
A NEW business has emerged in response to the shortage of labour in the hospitality industry. WeHaveChefs recruits chefs from southeast Asia and places them where they're needed in the kitchens of restaurants across Ireland and Britain.  

HOSPITALITY CALL FOR CHEFS TO BE INCLUDED ON CRITICAL SKILLS LIST. PADDY LYNN, CEO OF WE HAVE CHEFS, SAID THERE IS A SHORTAGE OF AROUND 10,000 CHEFS COUNTRYWIDE.
Business Post                                                         July 2, 2022
Recruitment firm founder tells Oireachtas committee that cutting the visa processing timeframe would help to tackle the countrywide shortage in the sector.


PADDY LYNN, CEO OF WEHAVECHEFS JOINT COMMITTEE PUBLIC PETITIONS "ADD CHEFS TO THE CRITICAL SKILLS TO SAVE IRISH HOSPITALITY"
Oireachtas Petition                                               July 7, 2022 

PADDY LYNN – FOUNDER – CEO OF WEHAVECHEFS LTD. GUEST OF HONOR TO SPEAK AT HOSPITALITY EXPO 2022, DUBLIN, IRELAND
Hospitality Expo 2022                                      October, 2022
" It was an honor & privilege to speak & present at the Hospitality Expo 2022. Great turnout for the inaugural indoor expo post-pandemic; showcasing the best of our industry. I want to thank my beautiful wife Claire Malone and my trustee colleague and mentor Simon"


PADDY LYNN, HIS FAMILY AND HIS BEST FRIEND JOINED THE AFFAIR AT CATEX, DUBLIN, IRELAND.
CATEX  Catering Inspiration                      February, 2023
CATEX, Ireland's largest food service and hospitality event returns in 2023 on February 21st – 23rd.